Lit., Sand broken. (Pukui, Elbert, Mʻokini)
Vol. 1, No. 8
12 June 1865
Nupepa Kuokoa
E IKE OUKOU E NA KANAKA A PAU, O ko'u mau aina hoolimalima, aina kuai, aina malalo aku o na'lii, a me kahi e pili ana i ua mau aina la, o Kapahulu a me ke kuleana o Mahana, ma Palolo, ua kapu loa ka hele wale ana o na holoholona a pau malaila, e pili ana i ka Lio, Bipi, Hoki, Kekake, e uku no hookahi dala ($1.00) no ke poo hookahi, koe nae ka Lio hookahi a elua paha, o ke kanaka e hele ana i ka hana o ka aina. O ka poe pii wahie, pii lai, kanu awa, kanu maia, kanu alani, kanu lemi, a pela aku, ma ke kula o Kapahulu, &c., mai pii hou lakou e ohi mai i ka hua o ia mau laau, o loaa auanei i kuu mau Luna, oia hoi na kanaka e hele nei i ka hana o ka aina, e uku no lakou no ke komo hewa. O ka poe haalele aina, aole hele hou i ka hana, mai kii hou lakou i ka ai o waena, no ke Konohiki ia waiwai. E like me ka olelo maluna, pela ke kapu ma na apana aina 7 o'u ma Wailupe, a na Z. Poli e hoomalu malaila a pau ko'u makemake. A pela ma Hahaione a me Kaelekei, ma Maunalua, na Noa paniolo o Wm. Webster, oia ka mea nana e hoomalu ia wahi, a pela ma ke kai lawai-a mawaho o Maunalua, kahi e pili ana i ke Konohiki, ua kapu loa ka poe e ae, ka poe i hele ole i ka hana, a uku ole paha i ko lakou mau holoholona ma ke kula. O na kanaka o ka aina e pili ana ma ia mau kula, ua noa no lakou ke hele e lawai-a ma na i-a malalo o ka ke Konohi i-a hoomalu. O na holoholona liilii malalo iho o na holoholona nui i oleloia maluna, me a'u no e kamailio ai i ka uku kupono a me na Luna paha i haiia maluna, a me na rula o ke Kanawai. E lilo keia i rula paa KE AU OKOA.
J. H. KANEPUU. Maunakilohana, Palolo, Mei 29, 1865. 7-1m.
Let it be know to all persons, that on my lands, those that are leased, those from the Ali'I, and some parcels next to the aforementioned properties, Kapahulu and the kuleana land of Mahana in Palolo, I forbid all types of animals to be there, in particular for horses, cattle, donkeys, there will be a fee of $1.00 per head assessed for each, unless it is only one or two horses being ridden by men on their way work to on the land. For persons coming to collect wood, collect ti leaf, plant awa, plant banana , plant oranges, plant lemons and similar activities along the plains of Kapahulu &c do not continue to collect the fruits of these plants, those coming will be apprehended by my foremen and will be fined for trespassing. Persons who have left the land, do not return to work it or gather the taro from there, this wealth belongs to the konohiki. As stated above so are the restrictions for my seven parcels of land in Wailupe, Z. Poli  is caretaker  there for as long as I wish. This also goes for Hahaione and Kaelekei, in Maunalua, permission is given to the paniolos of William Webster the person who is the care taker of that place, these restrictions also apply to the fishing waters outside of Moanalua, the place near the Konohiki, it is off limits to all others, persons not on their way to work, and those who have not paid to allow their animals to be in the fields. For persons who live on the land adjacent to those costal areas it is permitted for them to fish under the protection and Jurisdiction of the Konohiki. As for animals smaller that those spoken of above one may speak with me directly about the appropriate fees or with one of the managers mentioned above about the rules of this decree. This is now a binding rule.
KE AU OKOA. J. H. KANEPUU. Maunakilohana, Palolo, May 29, 1865.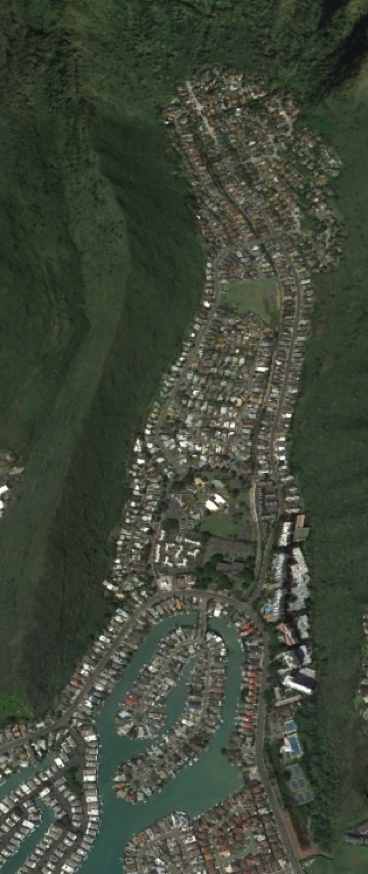 Click on the newspaper to link to Hawaiian Language newspaper resources.