Lit., The companion's water.
(Pukui, Elbert, Moʻokini)
The god Kāne brought forth water here.
Nupepa Kuokoa
Vol. 7, No. 44
31 November 1868
E IKE AUANEI NA KANAKA A PAU, OWAU A ME NA makaainana o Maunalua, ka poe i Hui a hoolimalima i ke awawa o Hahaione Kaelekei a me ke kai lawaia e pili ana ma na palena o Moanalua, mai ka lae o Makapuu, Awawamalu, a hiki i ka lae o Kawaihoa, ke kai kohola o Koke a me Kaliawa a hiki mai i na pelena o Kulionoa koe aku o Hanauma. Ua hoolimalima aku makou me ka Makua Alii ka Mea Kiekie M. Kekuanaoa, a i kopeia ma ka Buke Aupuni. Nolaila, ke hai ia aku nei ka lohe. Ua kapu loa i na kanaka e ae a pau o kahi e, hele ana malaila e lawaia wale ai me ka hoonele i ko makou pono e pili ana ma ko ke konohiki mahele. A i na ua lawaia wale kekahi kanaka a mau kanaka paha mamua iho nei, e hiki no i luna a makou koho ai ke koi aku a ko, e ili auanei maluna o ia luna ke poho no ka hoomaanea ana. Aole nae i pili keia olelo papa i ka poe e lawaia ana me ka haawi ana i ko ke Konohiki kapa.
J. H. KANEPUU. Luna Hoolimalima no ka poe Hai. Moanalua, Oahu, Okt.29, 1868. 361-2ts*
Let it be known to all, that I and the makaainana of Maunalua, lease lands in the valley of Hahaione Kaelekei and the fishing grounds next to the edge of Moanalua, from the peninsula of Mokapuu, Awawamalu all the way to the promontory of Kawaihoa, the ocean of  Koke and Kaliawa to the edge of Kulionoa with the exception of Hanauma. We lease land from Makua Ali'I  and  the Honorable M. Kekuanaoa as  recorded in the government records. Therefore let it be known that it is forbidden for all persons from other parts to trespass and take fish and deprive us of what is our provision according to that which is afforded us by the konohiki. And if any person or persons takes fish with out permission it is with in our right to chose  and required reparation to for what was lost. This mandate does not apply to those person who fish with the "kappa" given by the Konohiki.   
J. H. KANEPUU. Luna Hoolimalima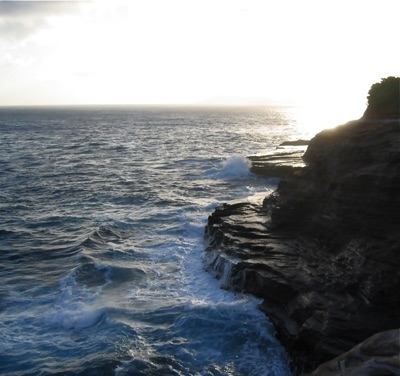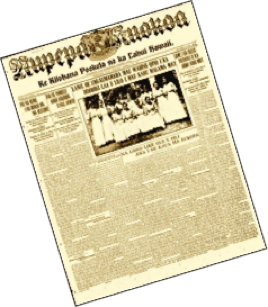 Click on the newspaper to link to Hawaiian Language newspaper resources