Named for Captain Nathaniel Portlock who commanded the British vessels
King George and Queen Charlotte that anchored off the coast of O'ahu, May 31, 1786.
He sent his men up Kuli'ou'ou Valley in search of water. (Pukui, Elbert Mo'okini)
Art and Text by
Raymond Alistair Massey
The King George and the Queen Charlotte were the first ships to visit the Hawaiian Islands after Cook's visit in 1777-78. The King George and Queen Charlotte were also the first of the fur traders, a new trade that would bring many visitors to the Hawaii Islands in the next thirty years. Ever since the Cook expedition discovered that the furs that they traded a few nails for in Nootka Sound, could be bartered for a huge profit in China, merchants in both Britain and the United States sent out ships to cash in on this bonanza. The fur traders also followed Cook's example of spending winter in the Hawaiian Islands where they could replenish their food stocks, and spending summer on the North West Coast where they traded for furs. When they had sufficient furs, they sailed for China where the furs were sold, and the money received procured a cargo of tea, silks, and porcelain for the voyage home.
It was over seven years since Cook's last visit; Captain Nathaniel Portlock of the King George, and Captain Dixon of the Queen Charlotte were not sure what sort of welcome they would receive from the Hawaiians. When they reached Kealakekua Bay, Hawaii, on the 27th of May 1786, their doubts were soon dispelled as thousands of Hawaiians came out to the ships in large numbers to celebrate and trade pigs, fruit and vegetables for nails and fish hooks.
Unable to obtain fresh water at Hawaii the ships pushed on passing Maui and Lanai. They approached Oahu on June 1, 1786 and passed down the south coast. Shortly after noon, the King George and Queen Charlotte rounded Koko Head and sighted Diamond Head in the distance. Maunalua Bay formed by these two heads gave temporary protection to the ships from the large ocean swells. The painting shows the two ships as they begin to round Koko Head approaching Maunalua Bay. Spinner dolphins frolic in the ships' bow waves and the overcast skies of the last few days peal back to reveal the beauty of Oahu. Today the town of Portlock, named after the King George's captain lies just to the right of the view of the painting.
To learn more about the artwork of
Raymond Alistair Massey
click on the sailing vessels
Click on Nathaniel Portlock's book "A Voyage Around the World."
You will be able to read his account of visiting the Hawaiian Islands
Click on image to view a
historical photo of Portlock Beach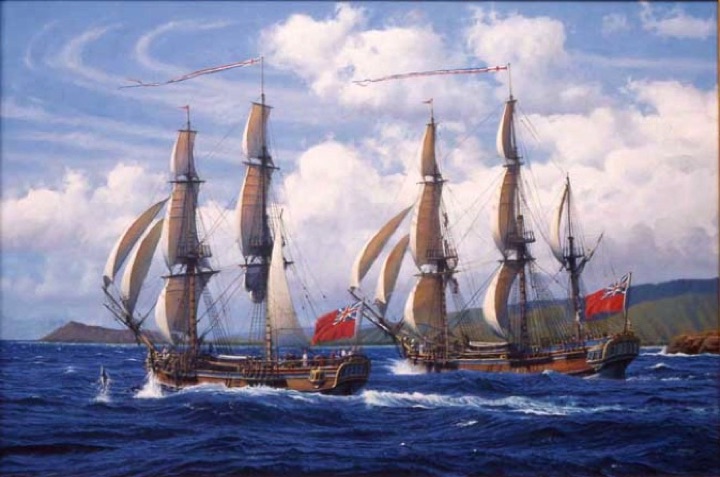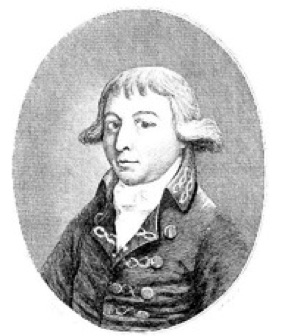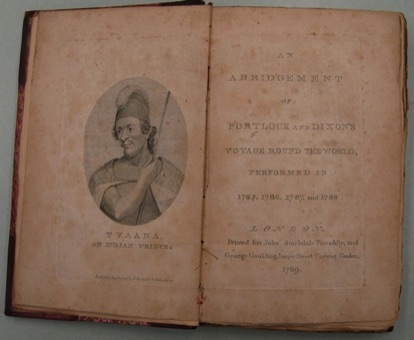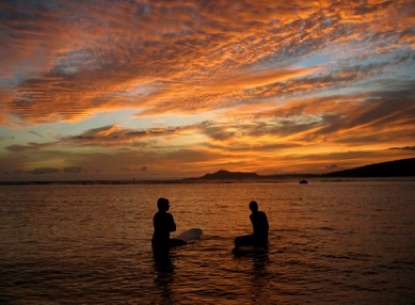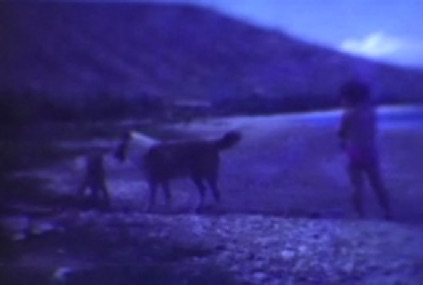 Click on image to view historical films of the Portlock area
Captain Nathaniel Portlock