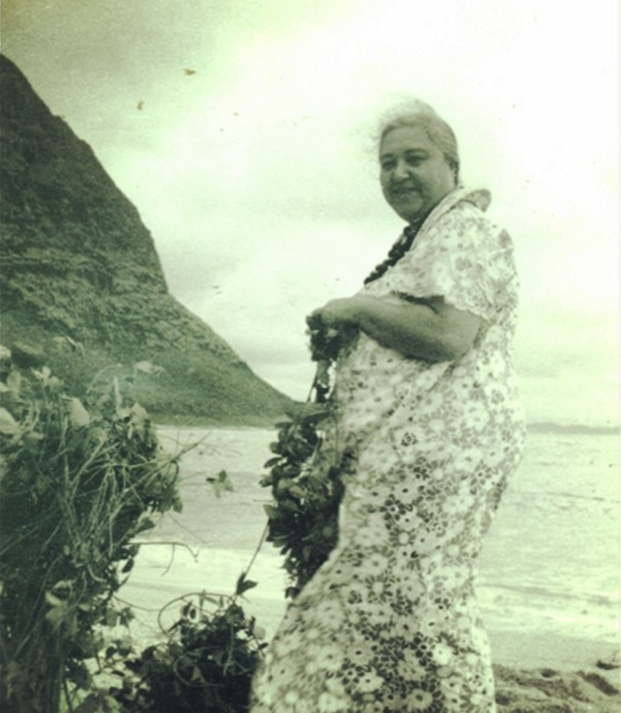 Mary Abigail Kawenaʻulaokalaniahiʻiakaikapoliopelekawahineʻaihonuaināleilehuaapele Wiggin Pukui
Mary Kawena Pukui at Kaupō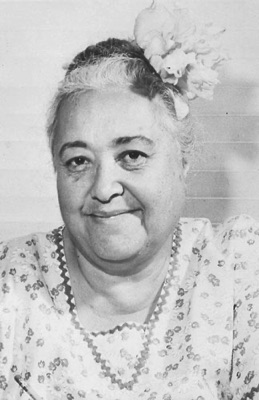 A woman with incredible foresight and love for her Hawaiian culture and people, Mary Kawena Pukui's work
continues to inspire and teach us about who we are as Hawaiians. She spent time in the Maunalua area collecting stories and place names from Native Hawaiians. Many of our stories of the area come from the stories Kawena collected.
It is with deep Aloha that we mahalo her for all the incredible work she did for the people of Hawai'i.
From Wikipedia:
"Pukui was fluent in the Hawaiian language, and from the age of 15 collected and translated folk tales, proverbs and sayings. She worked at the Bernice P. Bishop Museum from 1938–1961 as an ethnological assistant and translator. She also taught Hawaiian to several scholars and served as informant for numerous anthropologists. She published more than 50 scholarly works. She is the co-author of the definitive Hawaiian-English Dictionary (1957, revised 1986), Place Names of Hawaii (1974), and The Echo of Our Song (1974), a translation of old chants and songs. Her book, ʻŌlelo Noʻeau, contains nearly 3,000 examples of Hawaiian proverbs and poetical sayings, translated and annotated. The two-volume set Nānā i ke Kumu, Look to the Source, is an invaluable resource on Hawaiian customs and traditions. She was a chanter and hula expert, and wrote lyrics and music to more than 150 Hawaiian songs.
In addition to her published works, Pukui's knowledge was also preserved in her notes, oral histories, hundreds of audiotape recordings from the 1950's and 1960's, and a few film clips, all collected in the Bishop Museum. She is often credited with making the Hawaiian Renaissance of the 1970's possible."'